Click Here for the October Rubart Station Update Newsletter
The newest electric generating station to join the Mid-Kansas generation fleet, Rubart Station will be located in Grant County approximately 13 miles east of Ulysses, Kansas. The station will comprise 12 natural gas reciprocating internal combustion engines (often abbreviated with the acronym RICE) designed by Caterpillar Power Generation Systems.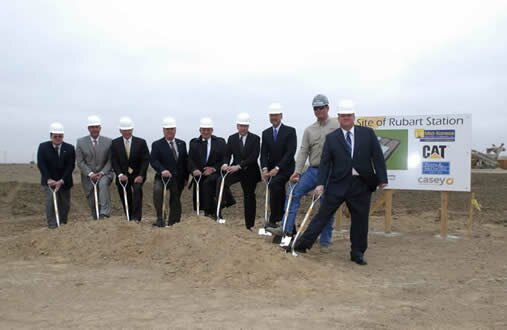 A groundbreaking celebration for Rubart Station, Mid-Kansas Electric Company LLC's future natural gas-based electric generation facility, was held on Tuesday, April 9, 2013. The facility will be located 13 miles east of Ulysses, Kan. Pictured from left to right are Kyle Nelson, Mid-Kansas sr. vice president and COO; Clive Nickolay, general manager of Caterpillar Power Generation Systems; Bill Rohner, Caterpillar Power Generation Systems vice president of electric power; Allan Miller, Mid-Kansas chairman of the board of directors; Perry Rubart, Pioneer Electric Cooperative trustee; Stuart Lowry, Mid-Kansas president and CEO; Ray Kowalik, Burns & McDonnell president of energy; Jordan Hanslogan, Casey Industrial project coordinator; and Matt Greek, Mid-Kansas manager, generation engineering and Rubart Station project manager.
Rubart Station will be the first installation of Caterpillar's new G20CM34 generator sets.These generator sets utilize Caterpillar's new 20-cylinder, natural gas-fueled reciprocating engine that offers high availability, long life, low fuel consumption, and low maintenance requirements.
Burns & McDonnell is providing engineering, procurement and construction (EPC) services for the project.

The nominal 110 MW station will help meet the growing demand for electricity while continuing to provide Mid-Kansas' members with reliable electricity well into the 21st Century
Benefits of Rubart Station natural gas reciprocating engine units:
Highly efficient

Low emissions including low carbon emissions

Short construction schedule

Needed voltage support

Fast-start capability allows for quick response to market conditions
Construction began in early 2013, and commercial operation is slated for April 2014. The estimated cost of the facility is approximately $130 million and will require approximately 6 to10 full-time employees for operation. During construction, approximately 150 construction jobs will be required at peak build out.
Newsletter Archives
Click Here for the September Rubart Station Update Newsletter
Click Here for the December Rubart Station Update Newsletter
Click Here for the February Rubart Station Update Newsletter
Click Here for the July Rubart Station Update Newsletter
Rubart Station Construction Photographs
April 2013 Photographs
May 2013 Photographs
June 2013 Photographs
July 2013 Photographs
August 2013 Photographs
September 2013 Photographs
October 2013 Photographs
November 2013 Photographs
Click on the Image below to view pictures from September, 2014
Commissioning of Rubart Station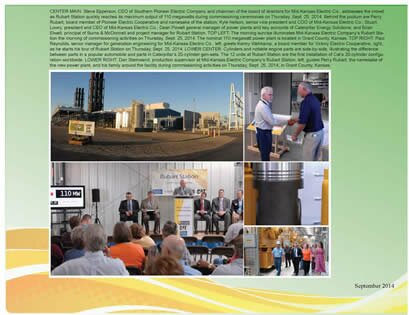 Click the image above to view the most recent construction photos of Rubart Station



Click Here for the Most Recent Rubart Station Update Newsletter
For additional information, click on the project topic brochures below


Fuel Choice & Power Plant & Transmission & About Rubart Station Rubart Station Q&A
Market Conditions Environment Substation